The Master of Ceremonies, Gary, has opened this to any and all who possess an email address. I think....he's trying to shake folks out of the trees and generate interest. So, here's what you can do -
Read the entries if you're inclined to by clicking through the links -
https://therealljidol.dreamwidth.org/1018259.html
Keep note of the ones you want to vote for and send their names with your DW or LJ handle or RL name to Gary at -
clauderainsrm@gmail.com
Or just send him an email with bleodswean in the body and that will work, too. ;)
Second Chance Idol is coming up! If you're wishing you had jumped in, your chance to get in over your head is just around the corner. I will post here when it opens!
This entry was originally posted at https://bleodswean.dreamwidth.org/325948.html. Please comment there using OpenID.
Last week's Idol prompt wasn't easy. I know some folks struggled with it mightily and others less, but still struggled. And now the vote has a twist! Because it's Idol, of course it has a twist!
They soaked the scent of mingle off in the porcelain, claw-footed tub in his narrow bathroom: a beast in chipped white paint, patina-ed lion's paws, the copper fixtures bleeding green. She dunked her head beneath the cooling water and scrubbed her face, the slept-in makeup dissolving between her palms. He saw her nude, her skin shining and fresh, her eyes bright, the hair sticking to her neck and down the long length of her spine, the thinness of her skin stretched across the hard angles of her bones, and he realized he had fallen in love with her. Utterly and forever.
He kissed her until the scattered rose petals on the surface grew sodden and sank to the bottom.
He followed her home, and they lay down once more, exhausted, hungover, in her iron daybed tucked into the window of the turret room she let, a ceiling fan high above them spinning laconically. The day was slow and sweet.
When they roused at sundown, the gloaming light of the evening flirting with the window glass, they retreated to her tiny bathroom. She lifted herself backward onto the sink, he slotted himself between her knees, and she shaved his face with a Venus she had retrieved from a ledge in the shower. She took concentrated care around the edges of the muttonchops he wore, the dark facial hair curling against his cheeks. She dragged the safety razor through gobs of shaving cream that smelled of lemons, something she had foamed into the cup of her hand. He watched his reflection over her shoulder in the mirror at her back, her head bent in concentration, and he hummed while memorizing the xylophone of her ribcage. The razor was dull, burning and scratching and she pressed the balls of her thumbs into the bleeding spots.
He loathed to wash clean this new skin, the scent of her in his pores, but he yearned for the rejuvenation of water.
The shower was too narrow for both, and when he stepped out, water sluicing off his body onto the subway tiled floor, she was leaning into the mirror, the flat plane of her belly pressed against the rim of the sink, and she was making up her face.
He was mesmerized. And realized he had never been party to such a thing before in his life. He felt bereft at the knowledge that all the women he had known had done this in private. He sat, naked on the lid of the commode, staring up at her.
The light brushing of her fingertips across the planes of her face as she patted in a moisturizer. The slicking of her hands down the taut length of her throat and back up over the sharp bones of her jaw and her face. She dabbed concealer beneath her eyes, above the bow of her upper lip, in a dotted line below the arch of cheekbone. A small brush blended the dots. Then on the back of her hand a dollop of foundation. She used a larger brush to circle the colour into her chin, her hairline, her forehead, nose, and cheeks. She painted in beneath her jawline and stroked it smoothly down to her collarbones.
He found an opened bottle of wine in the kitchen, recorked, and a coffee mug. Returning to the bathroom he poured out the blood red alcohol, offering her the first sip. It had soured, but neither one of them cared much. He leaned against the doorjamb and drank and studied her.
She had a cosmetic puff and a shaker jar of setting powder. Small poofs of colour, patting her face smoother. Another brush and the heady strokes of blusher from the corners of her mouth up to her ears. She pushed past him and returned in panties and bra and threaded several silver hoop earrings into her earlobes.
Various pencils in her hand and each one she uncapped with her teeth and rolled the cap between her lips while working on her brows and lids. She used the pad of her ring finger to smudge and smooth the lines as she drew them. She drew the deftest outline of her mouth.
Another pencil, thicker, lightened the bone beneath her eyebrow, then the inner corners of both eyes. A wand of mascara. And finally, she dialed a tube of lipstick up and dragged the tip one direction on her lower lip, from the bow out on her upper lip, and pursed and rolled and smiled shyly at him in the glass.
Her hair was a ratted mess of unwashed locks, falling across her face and down her back. She pushed her fingers through it and shook her head.Then lifted a perfume decanter from the windowsill. It was shaped like an apple, a shiny metallic apple, and she spritzed her decolletage and the insides of both wrists, rubbing them together as she brushed past him.
The vintage apartment had a walk-in closet big enough to be a room. She told him that she had rented it out the summer before to a street punk who naturally didn't come home one night. She shimmied into a black A-line and slipped her feet into wicked pumps. She searched through a bowl of jewelry and fished out several long chains with pendants and dropped them over her head.
He pulled on his rumpled trousers, couldn't find both socks so toed on his ox-blood brogues without them. His button down was hopeless, she tossed him one of her t-shirts, and it fit him like a lambskin glove. He shrugged into his suit coat and stood still while she bejeweled him with necklaces and bangle bracelets, twisting the two skull rings he wore on his fingers around and around before putting her mouth on his knuckle-bones. She ran her fingertips through his hair, massaging at his scalp, then smoothed the outrageous sideburns into place.
They left the walk-up arm-in-arm.
In the predawn hours of the morning, back at his place, he lathered a bar of soap into a washcloth and gently gently gently washed her face clean of everything she had worn throughout the long evening.
You're the most beautiful creature, he whispered to her, his voice burnt raw by the ache of longing, the candles guttering in their sticks.
This entry was originally posted at https://bleodswean.dreamwidth.org/325880.html. Please comment there using OpenID.
The first night, the metamorphic night, she slept in her makeup. They had entered his bedroom as crawling things, wrapped around one another, entwining their limbs for the dissolution, her head in the crook of his shoulder, his fingers folding over her hipbones. The bedding, silken, cocooned them, the third embrace. The next morning, they woke winged.
* The trip was good. Healing. And very very busy. We stayed in a huge and lovely waterfront house on Kent Island, on the Chesapeake Bay. At one point we had 17 family members. We celebrated a late Thanksgiving Friday night and let me tell you that the pre-ordered dinner from Cracker Barrel is fantastic with the exception that it had no dark meat or turkey legs. But still! Yummy. I think I will roast a turkey for Christmas this year instead of brisket or filet mignon. Everyone was on their best behavior, which can be a rarity in my dramatic family. Because we were just an hour out of DC we did a ton of sightseeing. If you have never visited this nation's capitol, I simply cannot recommend it enough. There is so much to see and do and be awed by and all of it is free. I can't even imagine what it would be like to grow up there with so much history at your fingertips. We really don't have that sort of established and tied-together history in California. D did so much driving and much of it in truly abysmal weather. When it rains there it pours. Sheesh. We also did a ton of walking. Kidling1 clocked a total of 9 miles on her iWatch just touring monuments and visiting museums. Big cities are romantic to country mice and we were all duly charmed.
* Monday was my father's service at Arlington National Cemetery. And yes, he died a year ago Tuesday. None of us, not even him, knew how backlogged this process is. The cemetery averages 30 burials a day and still it took them 364 days to schedule my father's funeral. I had never been there before, so arriving early and walking up through the showers and old sections of the graveyard to the Tomb of the Unknown Soldier was a deeply moving experience. The cemetery is spiritually laden and I felt so much more of an understanding of his desire to be there. I'm glad I got to experience that. His service was gorgeous and solemn and somber. The riderless horse and the casein and the band and the gun salute and the priest and the bugler with his taps. Very sad but it felt right. I think my mother feels a sense of completion and closure. She carried him through this past year and he is now laid to rest with dignity and much honour.
* I had purchased a heavy wool coat from Pendleton before we left and it became my daily clothing companion. I'm glad I had the foresight to do that. It was COLD.
* We took a day to ourselves and drove over to the sea.
* I will look through my photos and see what I have worth sharing. We did tour the White House and the decorations were cheerful and put me in the mood to decorate this year. Last year we were bereft.
* I am working on several columns for the magazine, with interviews scheduled for next week, about Camp Fire survivors and what rebuilding looks like to them. I'm excited about this assignment.
* What have the flist been up to?
This entry was originally posted at https://bleodswean.dreamwidth.org/325163.html. Please comment there using OpenID.
* We have returned, safe and sound, from the East Coast. Of course I'm running around playing catch-up with the house, my online life, and work! I was sorry to have to take my second BYE for Idol, but I needed to decompress yesterday. I am looking forward to reading this week's entries - I miss you guys!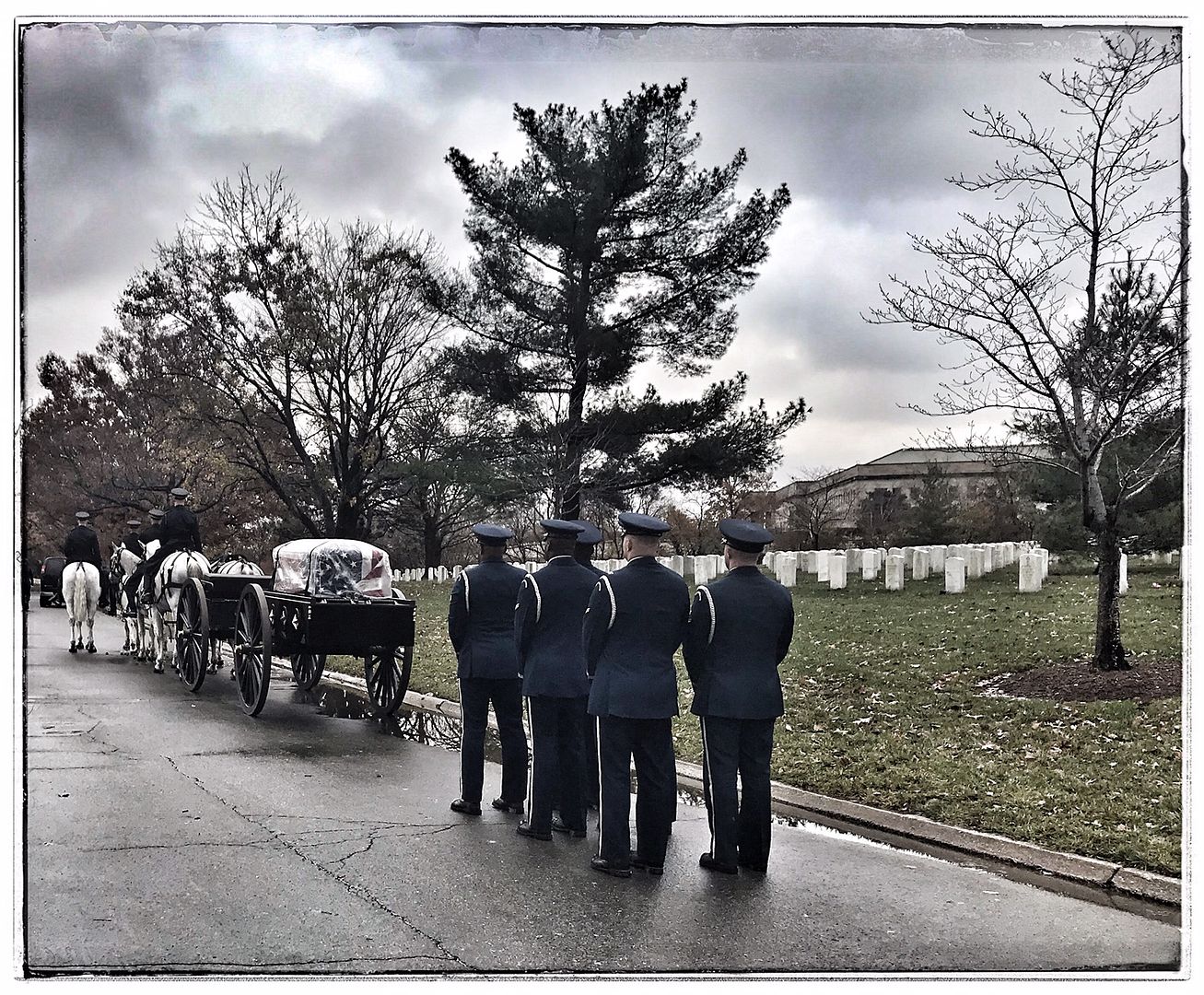 We have finally laid my father to rest. I miss you, Dad.
This entry was originally posted at https://bleodswean.dreamwidth.org/324917.html. Please comment there using OpenID.
* We are beginning our move into the final countdown before takeoff early Thursday morning. Yep, we're flying while the rest of you (most, hugs Murielle) will be in the kitchen sweating over turkey and potatoes and yam casseroles. Don't forget my fave, pumpkin pie! There is still so much to do to batten down the hatches and make sure we've got everything we need. Yikes.
* My town is in ruins. Paradise is truly gone, fuck the infrastructure. 11,000 houses just gone. Wiped off the map.
* This brought a much-needed smile - https://www.chicoer.com/2018/11/19/trump-mocked-online-for-telling-california-to-rake-its-forests-like-finland-to-reduce-fire-risk/ He said it, I heard him. We are so very grateful he came and toured this devastation. I think that was Important and it will make a difference. The liberal government here must stand up and accept that forest management is vital as is zoning laws for those who want to live in the woods. Here's an insightful op-ed - https://www.chicoer.com/2018/11/17/editorial-camp-fire-the-tragedy-we-were-all-warned-about/
Harsh, but true.
* The air is still permeated with grief, but there is something new now. It's akin to the roast beast dinner in Whoville, every single human creature is being kind and thoughtful and comforting and it's just heartwrenching to be in town and no one knows who lost what and everyone is just treading with care and compassion. It's amazing.
This entry was originally posted at https://bleodswean.dreamwidth.org/324793.html. Please comment there using OpenID.
* Emergency root canal went well yesterday. Two hours in the chair and the biggest worry was that they weren't going to be able to get me numb enough. Burning through the Novocaine and I can't have the big guns because I'm medicinally sensitive. He was an artist and moved very quickly between shots and got it done! What a huge relief!
* So, the GREAT FANTASTIC WONDERFUL news is that Kidling1 passed the California Bar!!! She asked D and I to drive down and sit with her on her couch and just wait for the magic moment that the results would be released, last night at 6 pm. So we did. She left work early and we killed some time by going down to the river and watching the salmon jump up the banks which is sad and misguided and I just wanted to wade out ther and rake them all back into the river proper. This particular bank is right below the overflow from the hatchery, so their birth water is flowing out beneath a mountain of fill and blackberry bushes and the poor fish, already beaten frantic, get off track. Not that it matters much, because they are either going to make it up the ladder or not. Anyway, it's a bit of an existential thing for me.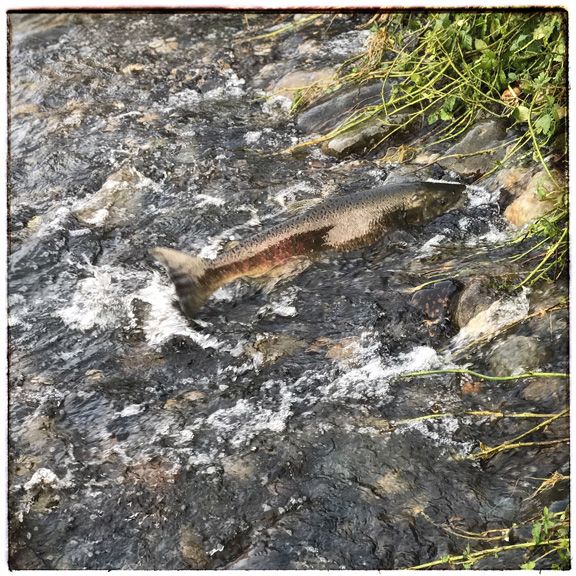 Then we went and fetched her, picked up a street taco dinner and headed back to her place where we did sit on the couch, watched the countdown, D did a zillion pushups, I tried not to pace, and she logged on at the exact toll of the bell and BURST INTO TEARS. We were momentarily shook but then she shouted, I PASSED, and it was tears all around. She was exhausted by stress and moments later she looked as though she had taken off a thousand pound coat. Immediately her phone blew up and it was just a joyous hour. With the only sad spot being the joy of my mother tempered with the sadness of how proud my dad would have been. Anyway, we left her to go out and celebrate and headed back, into the smoke, and home where we crashed hard into our bed because we, too, have been laden with anxiety. Thanks for all the wishes and candles and advice (George) and now she's on her way.
* The not good news is that I need an emergency root canal on Monday. Thursday was a dental nightmare and I can't even discuss it right now. I'm so very tired by my dental issues and am formulating opinions that aren't going to be popular about dentistry in the 21st Century. Anyway, that's $3,200 dollars and yeah, wow. I don't think there will be much pain, mainly relief, and I do need to do this before I get in an airplane on Thursday. Altitude and bad teeth are not a good combination.
* The terrible news is this growing death count on the fire. I just....it's so....I cannot even tell you all what is happening here in our small city. President Trump stopped in today, and that's going to rally the troops. But this thing is years from healing and I think we are on the verge of a collective nervous breakdown with our residents.
* A good spot is that I was able to write to the Idol prompt this week, am happy with the results, and am now responding to wonderful comments! There are some great entries this week and that's been fun to read through. I'm feeling deeply gratified that the words ARE coming and that I'm able to grab some of them out of the aether.
* Another good spot was me taking D and Kidling2 shopping for the funeral and going just about crazy until we found the most amazing manager of a Men's Wearhouse who completely got us and tricked them both out in gorgeous suits marked down, wait for it, 90% so we walked out with two thousand dollar suits for a hundred each, plus shirts and ties, and wow, they are going to look great. All the other men are wearing uniforms, so I'm happy these two guys will be put together. I'm hiring a professional photographer to capture the service, so we shall see what we get.
This entry was originally posted at https://bleodswean.dreamwidth.org/324371.html. Please comment there using OpenID.
* Settling in with a cup of tea and piece of toast and finally finding a minute to get to some computer things. My to-do list has expanded exponentially and that's not even my to-do before we leave for Arlington list. I'm going a bit nuts.
No one had traced it back to its root, taken the DNA of it and examined it to see who it was related to, who resembled it most, who must have carried it down through eons of ancestors. It didn't matter. His mother thought it had begun when he was just a little guy in dress-up cowboy clothes; fringed leather vest, boots, and plastic hat, and a holstered cap gun on a belt tooled with stickers. But when pressed, she couldn't shake loose a story.
It was funny when he was younger, then became a word salve, a mental game, as he grew older. As they all grew older.
This ain't my first dead hamster.
Not my first bowling tourney.
Not my first sleepover party.
This ain't my first failed marriage.
By then it was just him and his pops, no one else seemed of a mind to join in, try to solve the equation of it, dredge it for humor.
Not my first prom… first high school graduation… first time away at college.

He had been tempted to tell his first date, this ain't my first kiss, afterward. But he refrained.
This ain't my first DUI, he tried on his pops. It best be your last then, was all he answered.
This ain't my first grandchild, the morning he drove his wife and brand-new son straight from the hospital over to his father's place and Pops was waiting outside on the porch in the cold but acting casual about it until he placed the swaddled baby in his arms. His first and only grandchild.
This ain't my first retirement.
Not my first assisted care facility, Pops said on that awful day of moving him in, sitting with him as the sun set and the room remained unlit.
In the hospital, after conferring with the specialist in the hallway, he walked back into the room, and his father told him – This ain't my first cardiac event. He smiled but it didn't come easy.
Later, the exhausting chore of sorting and packing and giving away his father's belongings, slowly erasing a life that should have been longer, he found the lock-box with all the legal papers and set on top of the pile was an envelope with his pop's scrawl across the front, This ain't my first journey into the dark.
A few nights later, standing in his backyard, looking up at the sky as though stars were something new and novel, he whispered, Not my first time taking a long, hard look into the abyss.
This entry was originally posted at https://bleodswean.dreamwidth.org/324292.html. Please comment there using OpenID.
It was a family joke. Most families have some sort of running gag, and this was theirs. It had taken hold early and hung on for decades. Through his childhood and into his adulthood.
* My mother is back to not doing so well. Countdown to the service on the 26th. Although she has outright said she can't imagine "the point" of life after that day....She is on a mood stabilizer now and that does seem to be...helping. Stabilizing? I don't know. At least it's helping her with the insomnia. She's going to stay a few weeks longer than the rest of us, I have a sister in Virginia. I'm going to have to try to pull out some stops for celebrating Christmas. Not sure yet, I, too, am caught up in the anxiety about the next two weeks.
* And Kidling1's bar results!!! This Friday. Say a prayer or light a candle. Keep her in your thoughts.
* Okay, this fire. Not good. We are STILL on fire watch but I'm feeling confident right now. The air is clear up here and that's giving us some positive vibes. It's terrible energy down in the valley. These 52,000 people really are like refugees. The town has already decided to use the two County fairgrounds for temporary tent cities. I can't imagine where folks will be this time next year. This is a very low-income population, rent is already ridiculous and impossible, jobs will have been lost, a huge amount of these displaced folks are pensioners in their late 80's and early 90's! It's a true crisis in the making. Listening to the stories of folks who had to run for their lives has been riveting and horrifying. One would like to think we possess an inner core....but I don't know. Some of us do and some of us just don't.
This entry was originally posted at https://bleodswean.dreamwidth.org/323868.html. Please comment there using OpenID.
* Yesterday was hard. My mother drove up here to get out of the smoke of the valley and we both cried over that picture of my dad in his flight suit in front of the C5. That's "my" dad, from when I was a little girl, and that's my mom's young handsome husband. When I think of my childhood dad, that's the way I think of him. I can see him standing in the kitchen, on the phone, at o dark thirty, synchronizing all his watches and getting ready to go TDY.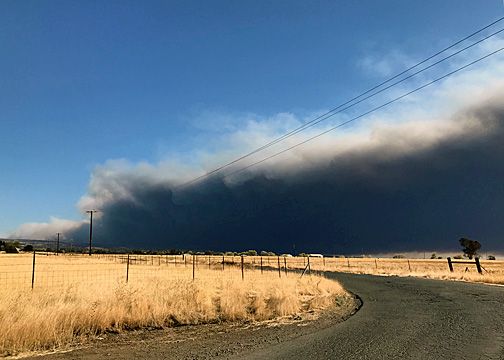 This is on my way to my mother's home Thursday morning. That's the smoke plume just before noon.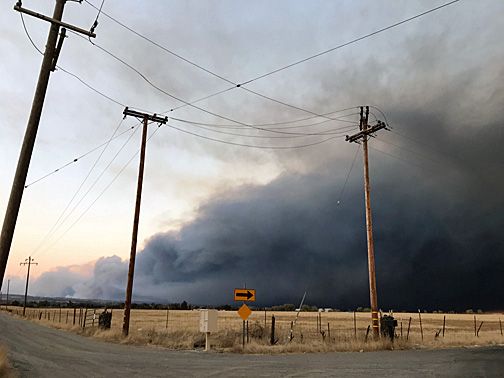 The corner right before entering my mom's development.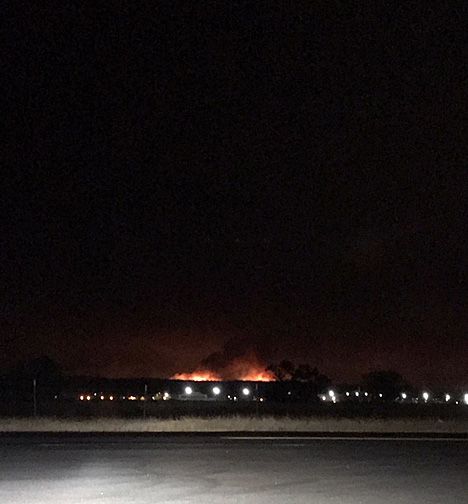 Never in all my life have I seen something like this. Photos absolutely cannot express what it's like to see an entire town burning to the ground in the middle of the night. I had to leave here Thursday late and saw this just before I got to my mother's. I drove over and picked her up and took her back to see this. We sat on the side of the road with so many other cars, eleven at night, and watched Paradise burn.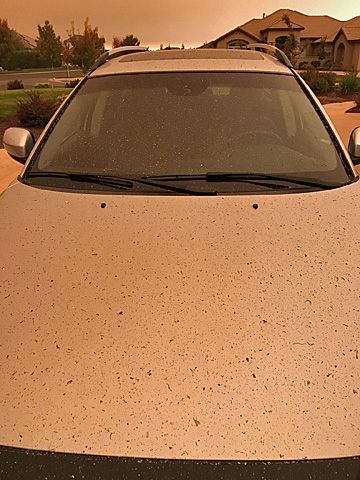 The next morning it was black outside until mid-afternoon. Here's some of the ash on my car.
This entry was originally posted at https://bleodswean.dreamwidth.org/323651.html. Please comment there using OpenID.
I know there are some unbelievable images of this terrible fire out there, but here are some I took -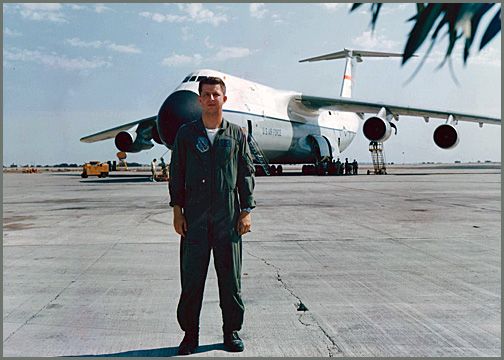 On another note, as some of you may know, we are ON FIRE here. Our ridge is the third over from Paradise and we're watching closely and with fear. I evacuated Thursday night but am home now. So many lives lost, the town of Paradise gone. The valley is filled with smoke and is dark as night. You can't go outside. The ash is falling like snow. The town of Chico is frozen with grief and fear. I held a weeping stranger in a smoke-filled Safeway on Friday. It took her eight hours to get down from Paradise with just herself, her 91 year old father and an ancient dog. This is a twenty minute drive.
It's not who do you know who lost their home, but rather who do you know who didn't lose everything? More than twenty friends who are now homeless, Kidling2's girlfriend's father lost his home and belongings and was one of the ones who had to abandon his truck on the road and run. We have 20,000 people in town with just the clothes on their back and nothing else. Keep these folks in your thoughts and in your prayers.
This entry was originally posted at https://bleodswean.dreamwidth.org/323532.html. Please comment there using OpenID.
On Veterans Day I'm remembering the deep patriotism of my father and his 35 years in the Air Force. Thank you, Dad, for your loyalty and love for God, country and family. I miss you every single day.