"The only wisdom we can hope to acquire
Is the wisdom of humility: humility is endless.
The houses are all gone under the sea.
The dancers are all gone under the hill." ~ TS Eliot

"I have always thought of Christmas time, when it has come round -- apart from the veneration due to its sacred name and origin, if anything belonging to it can be apart from that -- as a good time: a kind, forgiving, charitable, pleasant time: the only time I know of, in the long calendar of the year, when men and women seem by one consent to open their shut-up hearts freely, and to think of people below them as if they really were fellow-passengers to the grave, and not another race of creatures bound on their journeys." ~ Charles Dickens

"Has this fellow no feeling of his business, that he sings at grave-making?" ~ Hamlet

"The meaning of life is that it ends." ~ anon.
Life is short. And time flies on transient wings. We all go under the hill, together as fellow-passengers. This is what I know of life. And it is precious and if we strive towards humility then we can make the speeding days be filled with gratitude and wonder. It does not burden us to lift others, it does not lessen us to make more of others. We can have our tribe, our closest heart's loves, but we must also extend our compassion and empathy to the world at large – all living things will die. Even our beloved sun and planet.
These sentiments feel like bumper stickerisms because we've been trying for tens of thousands of years to speak to this knowledge, this experience, this humanizing collectivism. We want reassurance and guidance that we are acting appropriately to our lives and the lives of others.
There is comfort in acknowledging the shared experience of our lives. And the shared knowledge of our imminent deaths. Our dyings unite us in the question of what the meaning of our lives is and what it can be, should be. We are united, past, present, future with what we make of this strange consciousness. Our aliveness.
When we chose knowledge, death became part of that awareness. This knowledge must surely then denote a responsibility. To life.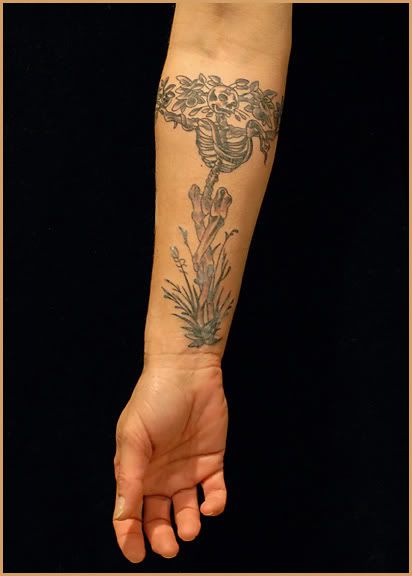 I have tried to embrace this knowing. Cerebrally and visceraly.
Understanding that death is part and parcel of life is a struggle. It can make us feel alive, but it can also put us in a headlock, cutting off all oxygen to the brain, panicking us. Take care, great care with what makes you feel alive.
(We are fellow travelers, friend. Alone but not alone at all. There is comfort to be found in this shared journey.)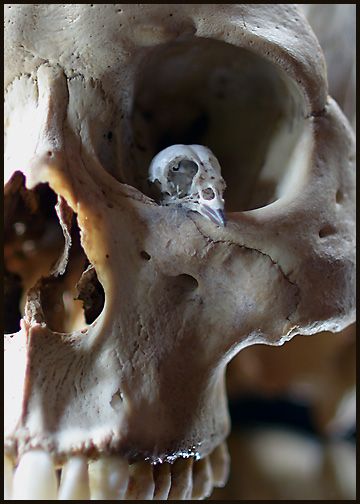 I am caretaker to a human skull. It is a deeply profound stewardship. This encumbrance is a kind of gift. If you will. The subjection of my life to this other, now deceased, life and in its turn, the skull holds me in thralldom. Symbol and container of philosophical, spiritual, existential and wholly physical struggle.
The memento mori should not paralyze but rather remind so that we can act with mindfulness. And joy.
Bring joy. To all things, bring joy.
***
I woke in the earliest parts of this morning from a dreamscape that was part of my childhood - my maternal grandfather's front yard. The year when my father was in Vietnam and my mother had moved into her parents home (a suburban ranch-style they had retired to, not the Boston Irish tenament building she had grown up in) to wait for my father's return home. She took her three small children and a newborn. This was the year that my grandmother died unexpectedly and my aunt succumbed to her battle with cancer. This was the year I was taught how to look for four-leaf clovers and was told about the pot of gold at the end of the rainbow.
In the dream it is Autumn and my grandfather has forbidden us children to jump in the huge mounds of raked leaves because he is systematically lighting each pile on fire. We are bundled for the weather and following him around the yard. All up and down the wide broad street are small smoky fires in front yards where the neighbours are burning their own leaves and yard waste. I am asking my grandfather why he is burning the leaves. (We had been taught to fear fire. It was just recently that I learned my uncle did not lose his fingers by "playing with matches" but rather lost them in the the war.) My grandfather has stopped and is leaning on a pitchfork giving me his full attention. In the dream I realize he is about to impart something very, very important. But in the way of dreams, it is suddenly a beautiful Spring morning and I am overcome with a feeling of suffused warmth and hope. The sunlight is pouring on me and I am tingling with joy. The sun is filtering through green leaves. I try to move and at that point am made aware of my situation. I AM THE LEAVES.