yoga pants
are becoming the norm for streetwear for women?
Street tights
? Am I old-fashioned if I admit I feel slightly over-exposed if I wear
running tights
out to Trader Joes? Are they comfy as all hell? Yep. Do I wear tights around the house with sweaters during the colder months? I sure do. But....out into the world, even to greet the UPS guy? I feel odd. And this could be just me. I've been in a ton of yoga classes and can verify, first hand, that not all tights offer the same amount of coverage. There is one regular yogi in the community class who I now know has tattoos on her ass because her tights are see-through when she's in downward dog. It wouldn't be polite of me to tell you what else I know about her....More and more good old boys are slapping bumperstickers onto their oversized trucks that declare "I love yoga pants". Can't blame them, I suppose, for being so in-your-face with their approval. Is this sexism?
* Crazy wind rain snow storm up here. No electricity all day yesterday. I used the limited available light (my house is very dark) to sew a teensy doll and to read. I started with
The Dog Stars
but two chapters in put it down. Maybe for good. Am I the only one who goes into existential despair at the thought of apocalyptic dystopian futures???? I must be. Look at the popularity of *gag* The Hunger Games....or The Handmaid's Tale. I just don't get it. Ugh. I began
Half-Life
by Shelley Jackson which is ASTONISHING. Hip and intellectual. Wow. The print is miniscule though and the book is brick-sized...so it made for hard reading, but I'm committed.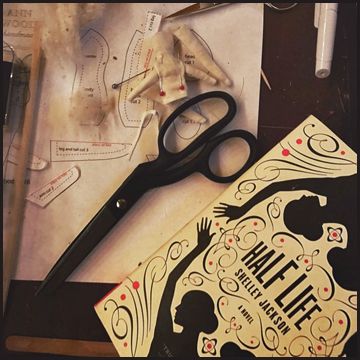 *
Taboo
!!!! I'm in love with this show! I thought I was the only one left in these modern times who used the phrase "cut of your jib".
* Not talking about my parents too much because I'm adopting an approach in which I'm trying to not let the situation take over my life when I'm home. The fatalism is devouring me.
I just found out that Jason Molina succumbed to his terrible addiction back in 2013. His music was never easy and I guess I just drifted away from it. RIP, Jason.
* Do we have thoughts about the undeniable fact that