Taboo
....you are my new beloved....
come to me Tom Hardy in all the glory of your painted-on tribal tattoos...and scars
. FACIAL SCAR!!! I want to write fic...and yet I haven't been able to write fanfic for a long time now. Something about all the 90,000 words I've written for
therealljidol
has dried up my fanfic words. I've wanted to write Sicario, Grimm, Peter Pan, and now Taboo...
* Let's talk about
Taboo
!
* My mother's favourite thing in the world is to go thrifting. She has an antique shop and she stocks it with found small goods. I used to be a huge thrift store fanatic, but D hates thrift stores and yard sales and anything that "smells of dead people" so I don't really do it often. But now that my mother is local we've been going every week and I'm getting some great books!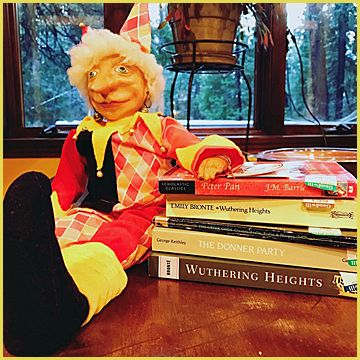 I can never pass up certain titles, no matter how many I own. I like different covers and I can also give them away. So, I picked up two copies of
Wuthering Heights
and one copy of
Peter Pan
! If you haven't read Peter Pan....I really really really recommend it. My mother found this clownish doll and actually gave him up for me to buy - usually she's pretty hoardy! :) Like our first stop when she found ten fantabulous vintage red toile plates!
* So I told you I've got a new musical love!!!
The Low Anthem
. I will tell you tomorrow how I discovered them which is an even more amazing bit of music, but right now, check out how diverse they are -
This video!!!
kittytoes
you will be moved by this one, I know. It's strangely and deeply unsettling. I'm a bit stunned at how much it speaks to me. I love the Petit reference.
I was in the air when the towers came down
In a bar on the 84th floor
I bought Philippe Petit a round
And asked what his high wire was for
He said, 'I put one foot on the wire,
One foot straight into heaven'
As the prophets entered boldly into the bar
On the Boeing 737, Lord, on the Boeing 737
Hey little bird, would you be the one
To nest beneath my Gatling gun?
There's nothing left I call my own
Come down and build me a home.
* I've been busy but can't actually point to a thing and say, see that's what I've been doing. And that's a frustrating feeling. I know I've been doing something! I have been reading, writing, watching TV, omg,