It's hot. But that's okay. It is August. Can't believe, actually, that it's August, but there you go. Out here kids go back to school the second week of August and summer vacation has suffered because of it. What happened to returning after Labor Day?
Reading rather than writing. I picked up a Carol Goodman at Goodwill -
Arcadia Falls
. It put me in the mood to read modern fairy tale retellings. I wanted it to be amazing. Such an imagination. But it's silly, of course. Not even enough meat there for it to be a guilty pleasure. I like books of this low caliber because....they act like rich fodder for the Muse. All those "couldabeens" that abound on every single page. Reminded me of
Tam Lin
, but then all art college novels tend to.
Another silly find,
Cloven Hooves
by Megan Lindholm or Robin Hobb. Not silly the way Goodman is so silly, but yeah, um. I will admit to being very impressed at how BRAVE Lindholm is with this. Satyr sex. For reals. And more, but I won't spoil it as there could be some flisters who enjoy this sort of outing and are willing to track down this rare and out of print paperback from '91.
Re-read the choicest bits from
Sunshine
because I scored a trade paperback at Goodwill. Thrifting for books!
Back to the tottering to-be-read small press books and I'm really enjoying
The Book of Speculation
but the few spoilery things I've read have said don't be disappointed when it amounts to not much. Exactly like the abysmal
The Night Circus
.
Writing is hard.
Alrighty, Ray, if you're gonna objectify woman, rightbackatcha, cuz I have a wicked weakness for a gap and nasty facial hair. YUM!
The Sunshine Challenge has come to its end. I'm happy it got me posting and I'm happy I found some new flisters! I really need to find a way to get that community feeling back again. Ah, well. Enough griping. Trying to return to illustrated posting!
Spent my regular Tuesday/Wednesday with my mother. Typical thrifting for her antique stall. I scored these two Ringling Bros souvenirs -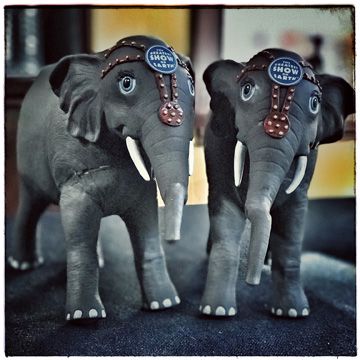 Happy with those two! $3.50. Also a nice book haul.
This photo was on her coffee table. Not sure why. First Communion for one of my sisters and me. I'm the one with the longer hair -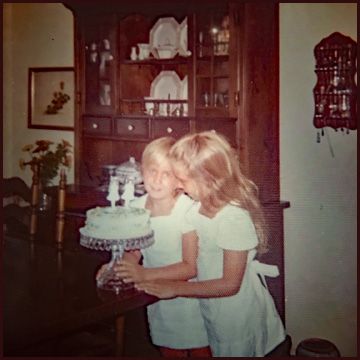 Sweetness.
We are in the grip of a mini-heatwave. Nothing like the East Coast and certainly manageable up here on the mountain, but dogs are hot -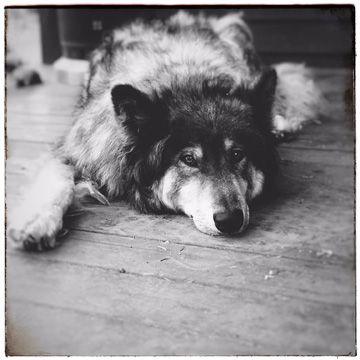 So are the young'uns -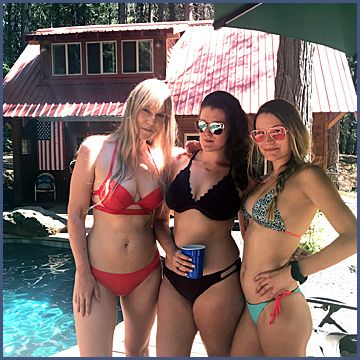 And even the wildlife, trying to cool off in the just-watered vinca -
One thing I LOVE about LJ/DW is how we are all readers! Out here *waves hand vaguely* not all of us are readers. But in here, we adore words and the fantabulous ways in which they work.
I'm a voracious reader and have been since the 4th grade when I contracted Rheumatic Fever and spent half a year in bed. Reading. Also, military brat and moving every three years had me spending a lot of time with my closest fictional friends. I did stop reading fiction for a decade when my kids were being born and I was incredibly caught up in the physicality of my life. I still read like it was a job, only I was reading about birth and nursing and natural foods and when god was a woman.
Now I'm back on the fiction. I've always preferred the Modernists, the Beats and the SouthernGoths. DH Lawrence, Jack Kerouac and Cormac McCarthy are all beloveds. So my taste runs more towards wordy novels about everyday folk.
Here's a few recommendations by contemporary writers that I think should be better known.
Nick Cave – And the Ass Saw the Angel
I had been reading Faulkner and O'Connor in college, but it was this ASTONISHING SouthernGoth novel from an Australian punk rocker that opened my eyes to the true underbelly of hellbilly literary fiction! I had no idea. I tried to bring a copy into my uni prof but he wasn't having it. He really had no knowledge of the SouthernGoth underground, but I certainly buried myself in it - Harry Crews, Cormac McCarthy's first four novels, William Gay and yes, AtAStA! This book is something that cannot even be contained or explained by genre. It's an ambiance. It needs to be read and absorbed into your very being. Of course, I see the McCarthy influence, near-entire lines lifted out of Child of God, but Nick's originality shines through, especially in the birth scene.
Sarah Hall – Electric Michelangelo
I love this book so hard it hurts. And so should you. It's brilliant and lyrical and historical and modern. It's thought-provoking and engaging. Hall is a wordsmith and a deep thinker and I love all her work, but this one is the closest to my heart. Unfortunately, she has a strange time error in the last chapter and the entire chapter should have been cut and put in another word folder on her computer. But, because every chapter that comes before is so fantastic, I just ignore that mistaken misstep.
Gregory Maguire – Mirror Mirror
I think this man is seriously underappreciated in contemporary literature. He has never written a single word that is out of place. Is it because he writes literary fanfic? I would say it is. He's most known for his brill Wizard of Oz stuff, but this take on The Garden and Snow White is really his masterpiece. His interp of the seven dwarfs sucked all the breath out of my lungs.
Tobias Wolff – anything and everything
THE MASTER of the short form. So so so good. If books were crack cocaine, this man would be the purest rock. He is dangerous and addicting and will lay you out on the dirty sidewalk.
Colin Barrett – Young Skins
Another up and coming master of the short story. I don't know why he wrote this book and a handful of magazine published shorts and then….kinda sorta disappeared. I selfishly want more. This collection made me hurt.
John Fowles - Ebony Tower
The long form wordsmith tackles the novella length and this story is in a class of its own. It should be taught. It's so good. And it combines some of my favourite things – love triangles, figurative symbolic art, old goaty artists and unrequited love.
Hmmm….at first I thought, that isn't me. But then….I realized that what I call "completist" in regards to music could really be interpreted as a fannish collection. But no one wants to see drawers filled with every. Single. Piece of music by Nick Cave, Swans, Tom Waits, the Pogues, Mark Lanegan and 16 Horsepower. BUT, I thought to myself, maybe folks would enjoy seeing a shelf dedicated to Nick (and Rico Genest RIP). So, here's a shelf in my library/loft. I hope I don't break flist frames.
I commissioned the Nick doll after I bought the Rico doll. Wonderful Russian artist and a joy to work with and crazy affordable. A bobble-head Mark Lanegan resides on the other end of the shelf, but I couldn't get the length of it in the pic. Of course, I also have Nick tees and several nice Nick and Lanegan and Sigur Ros prints hanging throughout the house.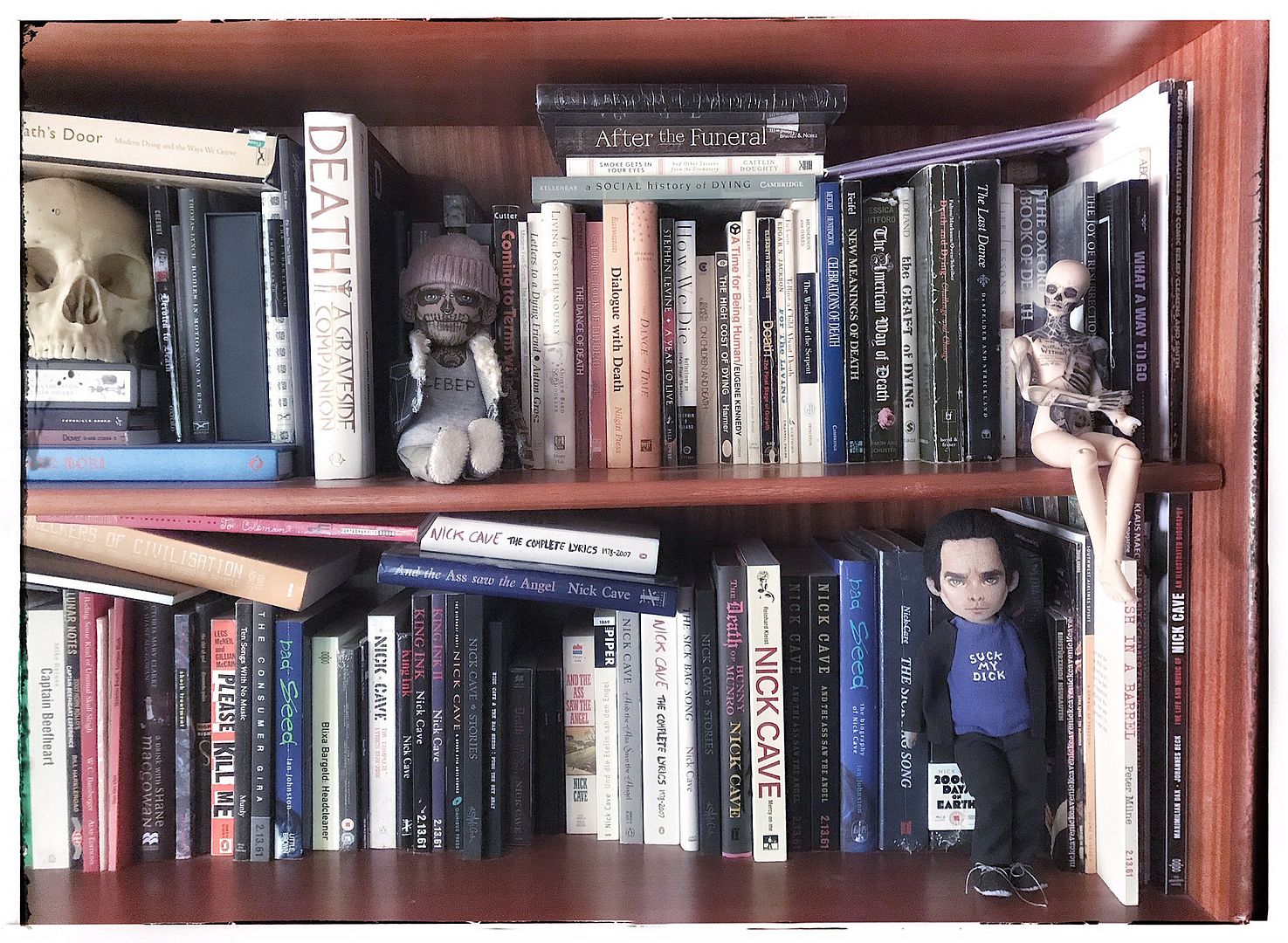 Looking at the tomes, I realize that this would be a great segue way into the underappreciated books list. Because Nick Cave's And the Ass Saw the Angel would be at the top of that list! I'll be back with that post shortly!
Everyone's
hungover
asleep, but I need to take off in a few minutes here. Our veterinarian is an hour and a half a way. Long story. They can't see LittleDog for his pesky cough for another ten days but said I could pick up some more steroids. So, I gots to go. I'll take David Whyte's
What to Remember When Waking
with me for the ride.
I'm worried about LittleDog. Sigh.
So, another crazy young person pool party today. Kidling2's girl arrived last night and we finally got introduced and she seems really fantastic. Why do all young people appear beautiful once you're no longer a young people? I don't remember every single person being gorgeous when I was in my 20s….tis a mystery. They are out in the poolhouse and I'm really really hoping this inspires him to move out there and D and I can get the house back to ourselves. That means that the office, which is in the poolhouse loft will have to come back here. It used to be in this nursery/office room off the master bedroom but I've since taken that over however it's not really worked as a "room of my own" because it doesn't have a door. It would be nice to have him back up there, especially in the wintertime. Not sure D is willing to give up that very cool space, though.
As for today, I'm laying down house rules this time.
I've been knitting for babies instead of reading. As soon as I get this last sweater finished, then I'm back to the stack of "to be reads." Wonder if I'm going to skip my annual summer re-read of Possession this year….that would feel odd.
I just realized in the old days I would have illustrated this kind of post with pictures. Pre-phone days. With the mighty Nikon D. Hmmmm….I really should find my way back to sharing photos.
I remember watching the Moon landing.
So, here's some of my favourite TV that I think doesn't have enough fans, fandom and fic!
Deadwood - HBO gets appropriate credit for their cutting edge serialized TV. We can all admit that The Sopranos changed the face of the small screen forever. True Blood? Be still my fandom-beating heart. Westwood. But Deadwood is the one closest to my heart. Admittedly, I am a massive Westerns fan, so it had me there. And mules and mule teams! Oh, and men with nasty facial hair. But what else Deadwood has is Shakespearian dialogue. I kid you not. The dialogue! (oh, and full frontal male nudity for what that's worth) Cancelling this show was a crime against art and can never be rectified. The storylines are wonderful, overlappy and there is sexual tension (always a PLUS in my fetish book), and irreverencey in the characters that makes it absolutely endearing. Thankfully, HBO did attempt to fix its error and funded a movie that came out last month. A kind of swans song that the characters needed.
Legion - This is one of the most amazing sleeper shows out there. It's FANTASTIC! Absolutely fantastic! Mind bending, gorgeously filmed with sets straight out of dark commix. The acting! Be still my Aubrey Plaza loving heart. Also, Jemaine! The story does stay tied together which is astonishing because it is COMPLICATED. It's the anti-superhero for the superhero fans.
True Detective S1 & S3 - S1 is probably my favourite bit of small screen work I've ever seen. It staggered me. And it is my preciousssssssssss. The ending is the greatest ending in any piece of artwork ever created. Not the spectacular finale, but the final last five minutes. I did think it was flawed for a long, long time....but I've made my peace with that and found a way to resolve it in my mind. S3 is a triumph, too, just differently than S1. S1 is all about philosophical dialogue and existential angst. S3 is all about dialogue delivery and the distances we put between ourself and ourself and those we love.

The Terror - WHY HAS NO ONE WATCHED THIS SHOW??? First, boats. Second, seamen. Third, mariner disaster. Fourth, exploration. Fifth, folklore and magical realism. Sixth but should be first - bae Jared Harris. I loved every single minute of this show. And it made me CRY. Like seriously weep with the humanity. And this one also has a superb ending that just blew me away. Every episode is a mini-film. It's perfect from the casting to the costuming to the set design to the haunting cinematography to the dialogue.
Bitten - A guilty pleasure ala The Vampire Diaries. Beautiful people in silly supernatural situations. Oh, and HEADY sexual tension. But with the same issues that all our fave supernatural shows grapple with - women are abused terribly. Still. It's worth an effort.
Penny Dreadful - This is one of the more witchier, darker and complex shows ever to be written for TV. It really is without comparison. Religious and thought-provoking. Supernatural but with a definite literary bent. Robbed via cancellation. It might be too dark for some the way that Hannibal is too dark. But it's really gorgeous and riveting work and needs more fans.
Wuthering Heights - I went looking for the Tom Hardy version because DAMN it's AMAZING, but went down a rabbit hole of a newer version which I've not heard about. Does anyone know about the PBS 2018 version??? Still, hard if not impossible to beat the Tom/Charlotte Heathcliff/Cathy version. Honestly, I doubt any of the flist haven't seen it. But still. It needs pimping.
I'm still wanting to make two posts about crazy-good underappreciated TV and books.
Then Landscaping!
Although today I'm going to go to Lowes to buy these gorgeous Ruby Red Slipper coleus's I fell in love with earlier this week. I must have that dark red plant all over the yard.
The second great nephew was born yesterday! Simultaneously exciting and melancholic. That's two grandbabies for my sister in a year's time. I'm happy for her. She's decided to quit her six-digit career as a Head Nurse in order to care for my niece's newborn because said niece has three more years of her OB/GYN residency. And yep, this baby was planned. I saw an emotion on my niece's face in one of the photos that is of serious concern. UTTER AND PURE LOVE. I've photographed a lot of maternity/birth/newborn and this isn't always the look you see. It's the look that Joseph Campbell was referencing when he talked about some women blooming in motherhood. It's the fabled look of the charging sow bear. It's an instantaneous awareness and connection that has not a thing to do with hormones or physical relief or mental calculation. It's a soul thing. And I think it's going to become problematic in six weeks' time.
We shall see.
I bought a fedora. Kinda. I bought Brixton's Field Hat and I'm the hippest of the hep cats now. Srsly.
Kidling1 got a hung jury today and is very pleased. That's seven trials in seven months! She's rocking this gig hard.
The building is back on fantastic track! I guess we just needed a few weeks of QUIET contemplation to consider it. Sure wish we had realized that we needed to slow things down from that breakneck speed before we threw all those Benjamins at it, though…The issue was Walls. I didn't want them. Menfolk did. Walls went up. Two of them were fitted with gorgeous antique stained-glass panels but the glass wasn't enough to bring in light or allow you to look out. This is an OUTDOOR room not a garage or a barn, which it began to resemble more than an OUTDOOR room. When it was its original post&beam self it was beautiful. Matched the rest of the mission style lodgey buildings on the property and I was pleased. Then Walls. Not pleased. So, we took 1/3 of them down. And it looks better than ever. It also calls more attention to the stained-glass and, of course, the deep woods. Very relieved and things are progressing once again. The solar panels are up and should be pouring deliciously hot water into the pool by the end of the weekend!
One thing that happens more often than you would think when you live in the deep dark woods is being woken by the sound of a small mammal screaming. Terrible. And disconcerting. If it's near dawn, I just get up and make coffee. But if it's in the middle of the night, I'm forced to lie in bed and contemplate all the strange ways in which this world is an injurious place. Makes for a long hour or two.
The fox and the lion are killers of living creatures. It's their purpose.
They say animals are immortal because they don't know they are going to die.
Kidling2 definitely has something heating up for him. Makes Kidling1 depressed as she has no partner on the horizon at all. She's been hanging out with Kidling2's crew for the past couple of months, so she has been watching this relationship develop and she's feeling lonely.
Getting some decent Amazon Prime deals. Got a screaming deal on two firesticks, and two ceiling fans for the new building. The Harry Potter box set is tempting. How many of us are still completists? How many still buy movies on disc? I dl most of my music now, but I still buy the cds of my faves. Nick, Swans, Angels of Light, Mark Lanegan, etc.. Whenever we watch HP we marathon it and it's usually some kind of snowed in weekend. I need the 4K box set. Obviously.


We've taken a week to ponder deeply the building and tomorrow we fix it! I think. LOL.


Mainly writing as of late. I wrote something new over the weekend and will probably share soon. Nothing is on tv.




th
birthday and we did go out to dinner with them and back to their place for gifts. That was nice. My sister is mellowing out and beginning to want "adult" time rather than hovering over the girls and demand that we all pay them the same attention. No conversations wherein people: die, fuck, birth, despair, imbibe, smoke, shoot up, contemplate God or the Goddess, talk politics, or horror movies, mention murder or suicide or car crashes, and doubly so for all animal life but especially dogs, cats and elephants. All that seems to be fading a bit. The person she has silenced the most with these bizarre restrictions is her husband who happens to be a fireman/medic in a huge city.
Mothers.
Still editing and rewriting. Also, I have an article on the docket. Trying to convince small-town editor that the style guide is about implementing AP Style not making random decisions about style such as URLS and forward slashes and dashes and parenthetical asides based on what she thinks "looks good."
Bad things are happening with the new building. Mainly and stripped of all pretense – we hate it. The reasons are myriad and varied and actually deal with deep-seated marital issues, too, so I don't have the energy to outline all that here. Suffice it to say, unhappy. We told S the contractor to pack up for a while so we can lick our (financial) wounds and make some decisions about what we can do to fix the problem. Ugh.
Working like I'm getting paid, on the Persephone/Hades pieces. I have 20,000 words of those two and am debating collating or using as inspiration. Beginning to outline my story. I wrote an opening chapter which amused me and entertained me.
I have TV and book recs that need more fandom love. Hopefully I can get to those before the weekend is over. Now I have to return to the daily grind.
Been busy. Tuesdays and Wednesdays, I spend with my mother while the men are out in the field. She's not feeling well so we laid low, for the most part. Tuesday was my niece's 12

sunshine_challenge


Prompt 3: Canon Recommendations
Film, TV and books - which canon needs more fandom? Opinions, I haz 'em. So, today, movies that I hold in high esteem.
And these fandoms need more fic. Period.


A Star is Born – my current obsession. The movie is amazing because of the chemistry Gaga and Cooper have on-set and in real life. I don't do a lot of RPFing, but these two are mesmerizing in their wide-open gazes and affection. I would like to see them as a couple.

Regardless, we will always have Paris the film. The songwriting is out of this world and the musical production ospot on and utterly true to life. The story is flawed but I forgive it its ways.
Instead of a trailer – have a big heaping helping of the chemistry between these two. Wait and watch for Gaga to tuck Cooper's hair behind his ear and then he goes in for a major nose rub -
The Piano – my favourite film of all time. Keitel is staggering in this role. His Baines is utterly and recognizably heartsick in love. A complete opposite to Ada's husband who doesn't understand his wife, doesn't grasp the depths of love and is completely ignorant to the hidden passions of all those who surround him. The soundtrack is outrageous. And baby Paquin, to boot. Jane Campion is a QUEEN.
Meet Joe Black – Poignant and so filled with a love of life that you will be weeping from heartbreak throughout the finale, so gorgeously wrought with a party and fireworks and formal wear. It's beautiful and funny and irreverent and utterly haunting in the way that well-done magical realism can stay with you in all its Jungian glory.
Eastern Promises – sexiest movie of all time and I still swoon and I've seen it gazillions of times.
Hostiles – sad and thought-provoking. The story is filled with inhospitable truths and undeniable facts. Terrible terrible stuff. But it does prevail. And the thespian joy of watching flawless craftsmanship from Bale, Pike and Studi makes the journey worthwhile.